WaterSense® Program Overview
ICC Evaluation Service, LLC® (ICC-ES®), has expanded its PMG Listing Program to include WaterSense®, a partnership program sponsored by the U.S. Environmental Protection Agency (EPA) that identifies water-efficient toilets, bathroom sink faucets, urinals, showerheads,  weather based irrigation controllers and sprinkler spray bodies. The (EPA) introduced the WaterSense® program to help in protecting our nation's water supply by promoting water efficiency and increasing awareness of water-efficient products, programs and practices.
Products displaying the WaterSense® label meet the EPA specifications for water efficiency and must be listed by a licensed certifying body.
Why choose ICC-ES PMG for your WaterSense labeled product listing?
ICC-ES has established itself as the leader in the United States with nearly 90 years of experience in evaluating building products for code compliance. ICC-ES is a licensed provider of WaterSense certification and offers manufacturers the best choice when listing their company's water-efficient products.
The ICC-ES PMG Listing Program:
Does not charge manufacturers for WaterSense listings
Is accredited by the ANSI National Accreditation Board (ANAB)
Meets the needs of the manufacturer by helping the manufacturer take its product to market quicker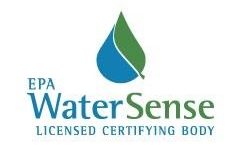 What type of products will the ICC-ES PMG Listing Program list under the WaterSense program?
The following products fall under the WaterSense program:
High-efficiency toilets (HETs)
High-efficiency bathroom sink faucets
High-efficiency urinals
High-efficiency showerheads
Weather based irrigation controllers
Flushometer-Valve Water Toilets
Sprinkler Spray Bodies
In order for a manufacturer's product to be considered for a FREE WaterSense report, the performance standard report must be certified by ICC-ES.
Application/Rules of Procedures
For access to these documents, Click here.
Partnership agreement with the EPA can be Found here.
WaterSense Label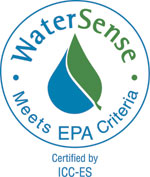 Receiving both the WaterSense Label and ICC-ES PMG Listing Mark
When a manufacturer applies for a listing to verify compliance with the WaterSense requirements, their products will also be evaluated by ICC-ES PMG for conformance with applicable codes and standards. This gives the applicant the benefit of obtaining both the WaterSense label and the ICC-ES PMG Listing mark.
WaterSense Program Mark Guidelines and ICC-ES PMG Listing Mark Click here.