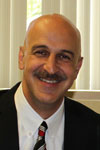 Shahin Moinian
President, ICC Evaluation Service
"Thank you for your interest in ICC Evaluation Service and the services we offer. Our goal is to provide you with responsive, professional and expeditious service with the highest quality of review to exceed your product evaluation needs. With a history of more than 80 years, building departments have long relied upon ICC-ES Evaluation Reports and Listings to assist them with product approvals. We take pride in having the widest acceptance in the industry. We invite you to explore our offerings on this page, or contact us at 1-800-423-6587 or
es@icc-es.org
."
Benefits of getting a report
Most widely accepted and trusted conformity assessment body by code officials who use evaluation reports to help determine code compliance and enforce building regulations.
Architects, designers, and specifiers use ICC-ES evaluation reports to find out, before construction ever begins, which products are recognized by ICC-ES as complying with code.
Contractors use ICC-ES evaluation reports to find building products that they can use in the field and support, if a building inspector should raise questions, with written evidence of code compliance.
Success stories. Click here to read.
Application Information
Click here for information.
How to reach us:
1-800-423-6587 or click on a name to send an e-mail message.
Resources to Promote Your Product:
How-To Guidelines for Report Holders
Following the release of an ICC-ES Evaluation Report' the manufacturer of the product may use the ICC-ES mark and the report number to identify the product. ICC-ES guidelines explain proper use of the mark and other issues. Helpful information regarding product labeling can be found in the ID Section of each report and approval letter.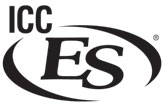 Frequently Asked Questions (FAQs):
Click here for answers to Frequently Asked Questions.
Helpful Links/Articles/Information: