Code Council continues support as major sponsor of NAHB for over 15 years
Brea, CA – ICC Evaluation Service (ICC-ES) and the ICC Family of Solutions will be in attendance at the 2023 National Association of Home Builders (NAHB) International Builders' Show (IBS) and National Kitchen & Bath Association (NKBA) Kitchen and Bath Industry Show (KBIS) during the tenth annual Design and Construction Week (DCW) in Las Vegas, Nevada.
As a preferred sponsor of DCW, the Code Council and ICC-ES have supported both industry shows for over fifteen years, highlighting the company's deep commitment to building safety innovations.
The International Code Council (ICC) is exhibiting at IBS booth C7114 and KBIS booth N1963. Each booth will be staffed with a dedicated team of representatives from all facets of the Family of Solutions, including ICC-ES, ICC NTA, ICC Digital Codes and ICC-PMG to answer questions and assist with code and conformity assessment needs, offering a unique opportunity to connect with these important resources face-to-face.
"ICC-ES is honored to continue our long-standing support and be at the forefront of building and kitchen innovation this year at IBS and KBIS," said ICC-ES President Shahin Moinian, P.E. "We are looking forward to sharing some exciting news on the Code Council's expanding global capabilities that will enhance an already robust portfolio of building safety solutions in the industry."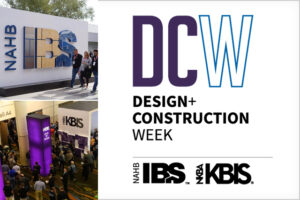 DCW is the largest annual gathering of the residential design and construction industry and consists of two shows, which will be running from January 31 to February 2, 2023. The shows will include exhibits, education, and networking through IBS, the largest annual light construction show in the world, and KBIS, North America's largest trade show dedicated to all aspects of kitchen and bath design.
New for 2023, the Las Vegas Winter Market (LVMKT) and the National Hardware Show (NHS) are also co-dated with Design & Construction Week's NAHB International Builders' Show and the NKBA Kitchen & Bath Industry Show in Las Vegas, Jan 29 – Feb 2, truly making this the largest annual gathering of residential construction and design industry professionals.
ICC-ES is the leading evaluation service for innovative building materials, components and systems. ICC-ES Evaluation Reports (ESRs), Building Product Listings and PMG Listings provide evidence that products and systems meet requirements of codes and technical standards worldwide, including the US, Canada, Mexico, Australia, New Zealand, and the MENA region. ICC-ES is a member of the ICC family of solutions.
To view or share a pdf of this News Release, please click here.