ICC-ES celebrates over 90 years of fostering innovation in building products.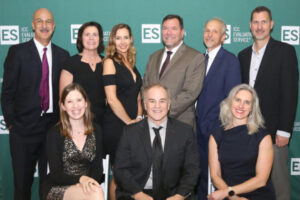 Top row: Shahin Moinian, ICC-ES President; Joan O'Neil, ICC Chief Knowledge Officer; Anna Mullen, ICC ES VP of Marketing;  Michael Wich,  ICC President Board of Directors; John Belcik, ICC Chief Operating Officer/ Chief Financial Officer; David A. Tompos ICC CAG Deputy Executive VP.
Bottom row: Whitney Doll, Executive VP Customer Management Group; Mark Johnson, Content and Service Group Executive VP ; Judy Zakreski, Global Operations & SolutionsSenior Vice President.
Brea, CA– ICC-ES an industry leader in performing technical evaluations of building products, materials and systems for code compliance. ICC-ES celebrated its 90th Anniversary and its rich history of collaboration with both building officials and manufacturers to bring innovative products to market. 
ICC-ES welcomed staff, clients and committee members at the Petersen Automotive Museum in Los Angeles, California on September 13, 2023 to honor and reflect on the history of ICC-ES. 
"At ICC-ES, we've been fostering safety and shaping innovation in built environments for nearly a century. I'm proud to lead a team that continues to work closely with manufacturers and code officials to bring innovative products to market with speed and efficiency. We have evolved over the decades to help manufacturers meet ever-changing market demands while maintaining code compliance. I look forward to meeting new challenges ahead," said Shahin Moinian, President of ICC-ES.
Learn about the evolution of ICC-ES:
###
About ICC-ES
A nonprofit, limited liability company, ICC-ES is the United States' leading evaluation service for innovative building materials, components and systems. ICC-ES Evaluation Reports (ESRs), Building Product Listings and PMG Listings provide evidence that products and systems meet requirements of codes and technical standards. The ICC-ES Environmental Programs issue VAR environmental reports that verify a product meets specific sustainability targets defined by today's codes, standards, green rating systems and ICC-ES environmental criteria. ICC-ES is a member of the ICC family of solutions.