Aligning resources and expertise allows for product approval and bridges code conformity gaps.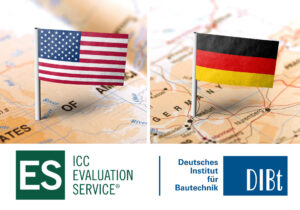 Brea, CA –Increased infrastructure development and initiatives to use sustainable and energy-efficient materials have driven growth in European and US construction markets, driving demand for expert testing and evaluation services for innovative products.
Ongoing collaboration between leading global evaluation and certification bodies, ICC Evaluation Service (ICC-ES – US), and Deutsches Institut für Bautechnik (DIBt – Germany), allows them to meet the joint needs of international clients.
"Working collaboratively with DIBt streamlines product evaluation and testing, and addresses product approval hurdles that manufacturers may face when entering new markets," says ICC‑ES President Shahin Moinian.
Finland-based ICC-ES client, Peikko Group, has gained the confidence of US-based code officials with an Evaluation Service Report (ESR). "ESR's issued to us by ICC-ES have opened up new opportunities to offer our products in US construction markets. We look forward to expanding into new markets worldwide," says Dominic Colpron-Labelle, Engineering Manager of Peikko Group.
ICC-ES has international experts that provide fast, efficient, custom-tailored service to their clients. Working with local approval bodies like DIBt, means that ICC-ES marks are the preferred choice of code officials and government regulators, allowing them to instantly approve products for installation with confidence and peace of mind.
###
About ICC-ES
ICC-ES is the leading evaluation service for innovative building materials, components and systems. ICC-ES Evaluation Reports (ESRs), Building Product Listings and PMG Listings provide evidence that products and systems meet requirements of codes and technical standards worldwide, including the US, European Union, Canada, Mexico, Australia, New Zealand, and the MENA region. ICC-ES is a member of the ICC family of solutions.
About DIBt:
DIBt is the German approval body for non-regulated construction products and techniques. DIBt fulfils a large range of technical and regulatory tasks in the field of construction, including granting national technical approvals and issuing European Technical Assessments (ETAs).
To view or share a pdf of this News Release, please click here.