In today's global economy, it is of the utmost importance to verify marketing claims in order to better educate consumers. As a result, ICC Evaluation Service (ICC-ES) has introduced a new Marketing Claim Verification Program. Through the program, manufacturers can work hand-in-hand with ICC-ES to verify their products' marketing claims through an objective and impartial process.

Marketing Claim Verification Report Product Categories
Plumbing, Mechanical, Fuel Gas Products
Toilets (flows and capacities) map testing
Kitchen and vanity cabinets (performance – ANSI/KCMA A161.1, shelf & joint loading)
Faucets (fittings & accessories meeting min/max flow rates – and beyond)
Shower heads / Rain showers
Building Materials
Windows (e.g. R values, impact and thermal properties, STC ratings)
Insulation (e.g. R values, STC ratings)
Sealants and adhesives (e.g. curing times, bond strengths, temperature ranges, STC ratings)
Anchors and fasteners (e.g. installation speed, curing times, bond strengths, temperature ranges, corrosion
resistance and coating performance)
And many more!
Marketing Claim Verification Process:
ES Marketing Claim Verification:
Once a marketing claim has been verified by ICC-ES, a Marketing Claim Verification Report with a unique Verification Number (ESV #) will be issued and published at www.icc-es.org/esv-directory.
The ESV # can be used alongside a company's marketing claim.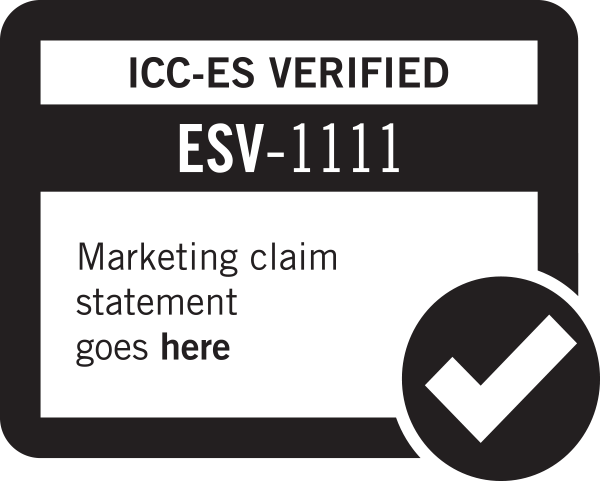 Why Choose ICC-ES for your Marketing Claim Verification?
| | |
| --- | --- |
| Expertise | ICC-ES is the leading expert in evaluating and testing building, plumbing, mechanical and fuel gas products, so you can be sure your claim is verified by the best in the industry |
| Experience and Trust | Your marketing claim is backed by ICC-ES' high quality reputation and market trust, which we have maintained for more than 70 years. |
| International Recognition: | ICC-ES has issued reports and listings to manufacturers in 41 countries, providing greater recognition for your marketing claim. |
| Verification Testing: | ICC-ES works collaboratively with experienced ISO 17025 accredited testing laboratories. |
To apply for a marketing claim verification, please fill out the form on the below application link. Inspection form and surveillance forms are also available below.