Virtual Western Roofing Expo 2020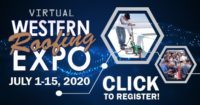 Visit ICC-ES at Booth #858 and register for  an insightful panel on Significant Changes Between the 2015 & 2018 IBC & IRC Affecting Roof Assemblies – featuring speaker Chris Allen, ICC Evaluation Service on Weds, July 8, 2020 1:00 PM – 2:00 PM PDT
https://register.gotowebinar.com/register/8462444426706525199
Over 20 webinars selected by the roofing contractor panel
Earn IIBEC and AIA CEU's
Explore the virtual trade show and discover new products and services
Participate in members-only raffle prizes
Legislative updates from Washington insider Craig Brightup
A heart-touching Scholarship Award Ceremony
A Virtual Silent Auction to benefit the Davis Memorial Foundation Scholarship Program
(VWRE registrants will have access to the trade show and webinars until December 31, 2020, so they may enjoy every webinar and visiting every trade show booth – a task that was impossible at the traditional WRE).
The Virtual Western Roofing Expo will launch on July 1st through July 15th. It will remain open to registrants to self-pace through 2020.  
Attendees can Pre-Register for the VIRTUAL WESTERN ROOFING EXPO by CLICKING HERE!