October 6-7 VIRTUAL Evaluation Committee Hearings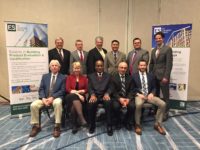 The October Evaluation Committee meeting scheduled for October 6-7, 2020 in Birmingham, Alabama will now be held via live WebEx.
You can register using these links for Day 1 and Day 2.
In the meantime, all AC development documents will be posted per the schedule on the ICC-ES website, according to our normal process.
If you have any questions, please do not hesitate to contact us by phone at (800) 423-6587, Option 2, or by e-mail at es@icc-es.org.