2022 AHR Expo: The Event for HVACR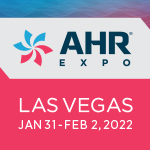 Join ICC-ES at Booth #N10811 the 2022 AHR Expo in Las Vegas, January 21 – February 2 at the Las Vegas Convention Center.
The AHR Expo provides a unique forum where manufacturers of all sizes and specialties come together to share ideas and showcase the future of HVACR technology. Since 1930, the AHR Expo has remained the industry's best place for OEMs, engineers, contractors, technicians, facility operators, architects, educators and other industry professionals to explore the latest trends and applications and to cultivate mutually beneficial business relationships. The event is co-sponsored by ASHRAE and AHRI.
Register for free through January 30 / Register before December 22 to receive badge by mail (domestic only)!
Visit: www.ahrexpo.com for more info.